How does the binocular technique work?
Without a doubt, fundus diseases have to be diagnosed correctly, since a lot of them need to be laser treated. To avoid any mistakes, doctors use numerous ophthalmoscopy tools. In this perspective, binocular indirect ophthalmoscopy procedure is a must.

During the examination, the patient sits or reclines. A doctor directs the light source, which is mounted on a forehead, into the patient's eye. An eye care specialist also uses a hand lens to examine the posterior wall of an eye. Unlike the direct ophthalmoscopy procedure, the indirect one allows inspection at a distance from the patient.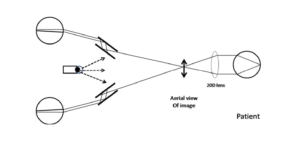 For binocular indirect ophthalmoscopy technique, doctors use lenses with a magnification of 15 to 30 diopters. The smaller the optical power of the lens is, the greater the magnification and working distance turns out to be. In this case, the field of view decreases. In general, modern ophthalmoscopes are equipped with LED or XHL lighting. The latter tools play a role of a light source.

Indirect ophthalmoscopes are binocular and monocular. Nowadays, indirect ophthalmoscopes can have video camera. With the help of the latter element, it is possible to transfer the fundus image to the monitor and demonstrate it to a patient and colleagues.
By the way, Sky Optic is a lifesaver for doctors since this company is a reliable seller of various medical tools. For instance, you can easily find a great binocular indirect ophthalmoscope for sale. When it comes to a powerful combination of quality and price, Heine Omega 500 LED binocular indirect ophthalmoscope is a wonderful option to go for.
The model can boast of its enhanced functionality. For instance, the patent "Synchronization of regulation of convergence and parallax" allows achieving high brightness and stereoscopic visualization of the fundus, regardless of a pupil's size. Thanks to the mounting of the optics on the aluminum frame, the OMEGA 500 pleases with its durability and longevity.
What is the binocular indirect ophthalmoscope price then? For little more than 2000 US Dollars, you get the expanded functionality at the low-budget price.
All in all, the method of indirect ophthalmoscopy is one of the main research methods in the field of vitreoretinal surgery. Examination of an eye using indirect ophthalmoscope makes it possible to examine various parts of the fundus quickly and easily, while examining an eye with the help of direct ophthalmoscope is intended for a detailed examination of the eye's parts.