Laser treatment remains one of the common and important methods in ophthalmology. Currently, the treatment of serious diseases such as diabetic retinopathy, age-related macular degeneration, complex refractive errors, etc. is usually not possible without the use of a laser.
Therefore, it is extremely important for an ophthalmologist to know the types of laser radiation. In addition, it is a must to have knowledge which type of lasers should be applied in accordance with the patient's diagnosis and his counter-indications in order to help the patient in time and preserve his vision.
Overall, the most popular types are excimer lasers and YAG lasers. What is the difference between them? YAG lasers have a small absorption in melanin and hemoglobin. They are used for laser hair removal, laser vein treatment, laser photo rejuvenation, laser acne treatment, etc. This equipment is also a lifesaver when it comes to laser skin surgery.
Unlike YAG lasers, excimer lasers contain xenon, krypton, and argon compounds. Their target is protein and water molecules. They also have wavelengths between 190-350 nm. Excimer lasers are useful in treatment of psoriasis and vitiligo.
On Sky Optic, customers can find numerous solutions to meet their purposes. The company can boast of a great suite of its qualitative and reliable products. One of them is Alcon Wavelight Ex500 excimer laser. That is a perfect combination of modern technology, ergonomic design and intuitive use, the purpose of which is ideal and predictable results. Mel 90 excimer laser price is also worth considering.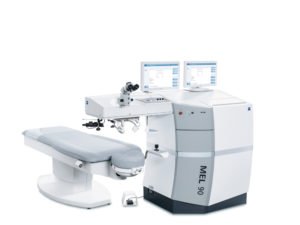 To note, the choice of YAG lasers is more varied. For instance, Laserex LQP 3106 YAG laser without table is a fantastic tool for ophthalmic surgery. YAG laser Alcon is definitely worth going for in terms of its advanced functionality and ease of use.
Nidek YC1800 YAG laser with table is second to none. This system allows providing gentle and bloodless treatment of intraocular diseases under outpatient treatment. The product is famous for its microprocessor control mechanism of a D-pulse beam. It is capable of generating pulses using so-called "Q-switching" method.
All in all, laser treatment is a well-thought-out process. It requires solid preparations and choice of suitable and highly-qualitative tools only. Sky Optic can offer both excimer lasers and YAG lasers at affordable prices so that any customer would be satisfied.